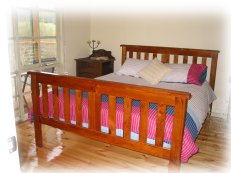 Wattletree Cottage contains 5 fully featured bedrooms.
Each bedroom is also equipped with Nobo Panel Heaters.  For further information on this see the Bedroom Heaters Page.
The house does have a few portable mattresses available that are comfortable and suitable for adults and children:
There is also pull out comfortable double bed is also available. This is found near sitting area, near front bathroom.
All doonas, blankets and pillows are provided. You need to bring your own sheets (top and bottom), pillow case and towels.
The Clonazepam demonstrates impressive results in overall clinical practice. More than 60% of patients suffering from anxiety who have been buy clonazepam and taking this, reported significant improvements after a 6-week therapy. In more than 40% of cases, the beneficial effect lasted long enough to provide complete recovery fromthe recurring panic attacks.
The features of each bedroom are listed in their individual pages: