---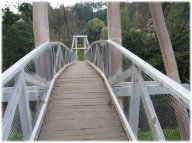 Warburton is an attractive town situated in the beautiful Yarra Valley. It is located 70 km East of Melbourne via the Warburton Highway. There are many things to do and see and Warburton is a great place to base yourself and visit other towns and attractions close by. Wattletree Cottage has a range of information available at the house for guest to read and plan their holiday. If you are wanting to plan activities prior to your stay, you will find the information below helpful. A great place to start is by visiting or calling:
If you need to get to Warburton by Public Transport, you can do so by catching:
A Train to Lilydale and then
A bus to Warburton. The bus service to Warburton is:
Martyrs Bus Service – 5666 2035 or http://www.martyrs.com.au.